I've decided that I'm too tall to wear platforms at my height of 5' 5", but that doesn't mean I can't dream about them! Living on campus means that I'm too lazy to dress well to attend uni, especially since most other people come in casual clothes as opposed to the dinner date outfits and makeup you see people in for other universities. So I guess I wouldn't have much of an opportunity to wear them anyway, when other trips around the city involves riding my dear bike called Lexis. (Yes she has a name and gender, what of it).
There's something I love about a fancy heel which is a little different! I've only got three photos in this short post though.
Click the photo for a link in a new tab on where you can buy them :D!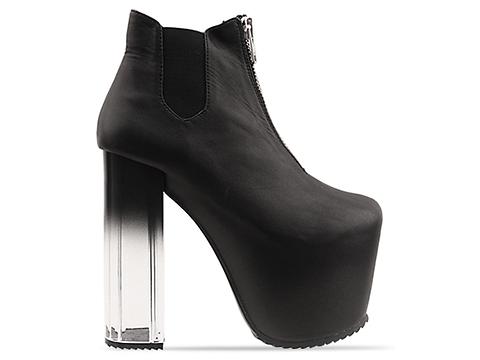 UNIF's Das Boot
Too high for me to wear but I just love that black to clear gradient.
Jeffrey Campbell's Soiree Platform
This is actually a reasonable shoe that I can stand in without feeling like I'm too tall next to my friends and I seriously want to buy it but I really can't afford spending more than $100 on anything right now :,(.
Deandri's Nude Gertie Platforms
I adore Deandri's design and again, to avoid those super high platforms, this was a nice lower alternative. Just look at it, JUST LOOK AT IT oh god.
I'm meant to make this entry longer but I'm EXTREMELY tired from lack of sleep due to a really long night yesterday when i watched 17 Again and then the three Batman movies + early wake up this morning. So I guess I'll cut it off here.
BYE!